Detroit Community-Academic Urban Research Center
Partnership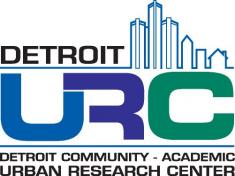 The Detroit Community-Academic Urban Research Center (Detroit URC) is a community-based participatory research collaborative partnership composed of representatives from multiple partner organizations (listed below). Its mission is to enhance understanding of the relationship between the social and physical environmental determinants of health–and to translate that knowledge into public health interventions, programs, and policies aimed at promoting health equity.
To fulfill this mission, the Detroit URC seeks to maintain an effective partnership that identifies problems affecting the health of Detroit residents and promotes and conducts interdisciplinary, community-based participatory research (CBPR) which recognizes, builds upon, and enhances the resources and strengths in the communities involved.
The Detroit URC works in multiple communities in Detroit, characterized by differences in history, race and ethnicity, language, economic composition, and community organization. Consisting of representatives of each of the partner organizations, the Detroit URC Board oversees all aspects of the Center in accordance with a set of CBPR principles adopted by the Board. The partnership fosters and supports the development of affiliated CBPR partnerships which are governed by their own Steering Committees and include additional community organizations and academic researchers.
The Detroit URC was established in 1995 and funded originally through a Cooperative Agreement with the Centers for Disease Control and Prevention (CDC) through their Urban Research Centers Initiative.
Detroit URC Partners:
Communities In Schools
Community Health and Social Service Center, Inc.
Detroit Hispanic Development Corporation
Detroit Health Department
Detroiters Working for Environmental Justice
Friends of Parkside
Latino Family Services
Neighborhood Service Organization
Eastside Community Network
Institute for Population Health
Henry Ford Health Systems (HFHS)
University of Michigan Schools of Nursing, Public Health, and School of Social Work
For more information please see the Detroit Community-Academic Urban Research Center